British PM visits Ukraine, promises to flood Kyiv with military and financial aid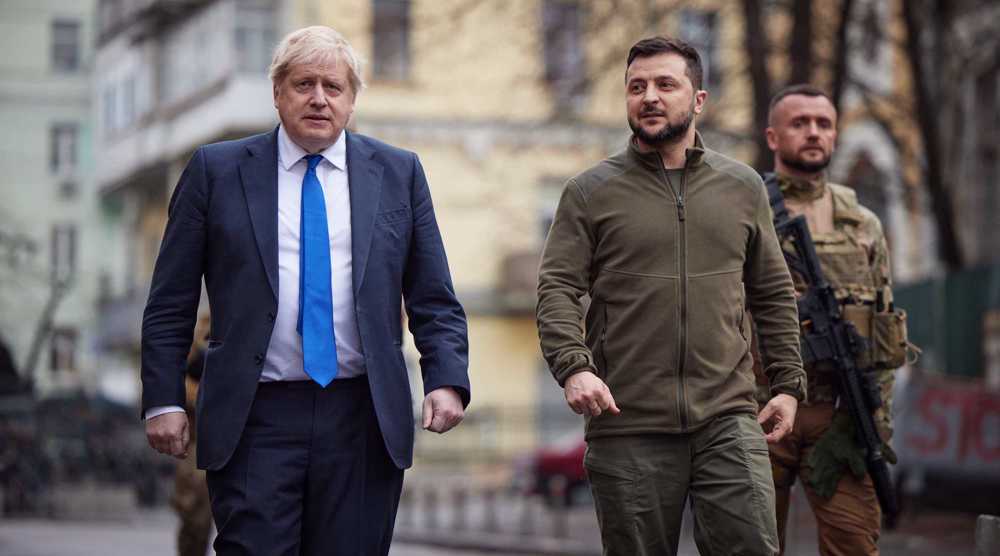 British Prime Minister Boris Johnson promises, during a surprise visit to kyiv, the capital of Ukraine, to provide the war-torn country with considerable amounts of military and financial aid.
"Ukraine has defied odds and pushed Russian forces from the gates of kyiv, achieving the greatest feat of arms of the 21st century," Johnson said during Saturday's visit, promising to equip Ukraine's military with 120 armored vehicles and new anti-missiles. ship missile systems.
'I have made it clear today that the UK stands steadfast with them in this ongoing fight, and we are in it for the long haul,' the British PM said after meeting Ukrainian President Volodymyr Zelensky .
The aid was intended "to support Ukraine in this crucial phase as Russia's unlawful assault continues", Johnson added.
Speaking alongside Johnson, Zelensky said Ukraine was ready for an uphill battle against Russian forces, which are massing in the east of the country.
"It will be an uphill battle, we believe in this fight and in our victory. We are ready to fight simultaneously and seek diplomatic means to end this war," Zelenskiy said.
On February 24, Russian President Vladimir Putin announced a "special military operation" aimed at "demilitarizing" the Donetsk and Lugansk regions in eastern Ukraine. In 2014, the two regions declared themselves new republics, refusing to recognize Ukraine's western-backed government.
Announcing the operation, Putin said the mission was aimed at "defending people who for eight years have suffered persecution and genocide by the kyiv regime".
The new British aid comes on top of 100 million pounds ($130 million) of high-quality military equipment, including additional Starstreak anti-aircraft missiles and another 800 anti-tank missiles, as well as "roaming" drones for "strike strikes". accuracy ". which was announced on Friday.
Britain would also guarantee an additional $500 million World Bank loan to Ukraine, bringing its total loan guarantee to $1 billion, and liberalize tariffs on most imports from Ukraine. Ukraine while taking further steps to liberalize trade.
Prisoner exchange with Russia
Also on Saturday, Ukraine carried out a prisoner exchange with Russia, the third since the start of the Russian operation, which saw 12 soldiers return home, Deputy Prime Minister Iryna Vereshchuk said.
Vereshchuk also said that as part of the deal, 14 civilians were also returning to Ukraine.
Russia's rights ombudsman, Tatiana Moskalkova, said 14 Russian sailors had returned home in exchange.
"Thanks to the coordinated actions of the Russian General Staff, 14 sailors from the civilian vessel Azov Concord have been released and are being evacuated to safe space," she said.
Moskalkova said Ukraine had since the start of the conflict "detained the ship's crew in the port of Mariupol (in southeastern Ukraine), where the exit to the sea was mined."
Stoltenberg: NATO plans permanent military presence on border
Also on Saturday, North Atlantic Treaty Organization (NATO) Secretary General Jens Stoltenberg said the military alliance was working on plans for a permanent military presence on its border in a bid to combat this which he called "a future Russian aggression".
The NATO chief, speaking in an interview with The Telegraph, said the alliance is "in the midst of a very fundamental transformation" which will reflect "the long-term consequences" of Russia's actions.
"What we are seeing now is a new reality, a new normal for European security. Therefore, we have now asked our military commanders to come up with options for what we call a reset, a longer-term adaptation of the 'NATO,' Stoltenberg added.
He noted that decisions on the reset would be taken at a NATO summit to be held in Madrid in June.
As part of a major "reset", Stoltenberg said, the relatively weak "tripwire" presence on the alliance's eastern flank will be replaced by forces sufficient to repel an attempted invasion of member states such as than Estonia and Latvia.