Inside Alluvion, Traverse City's newest arts venue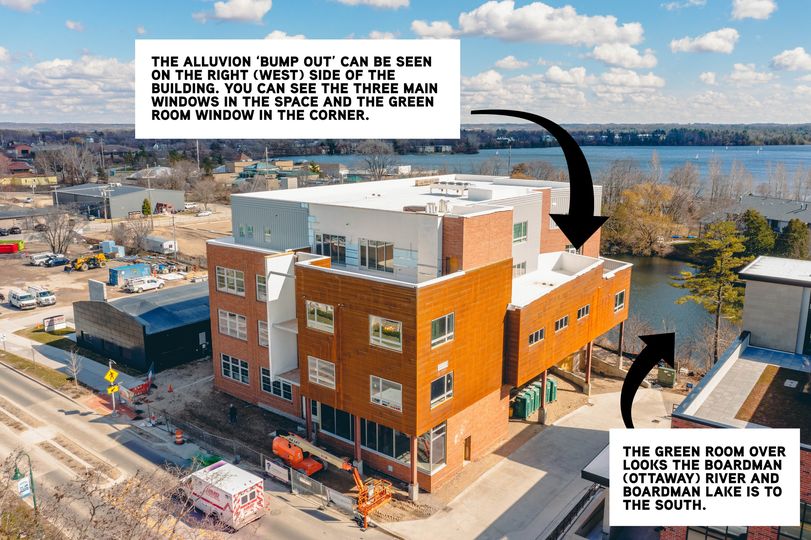 New details emerge on plans for Traverse City's newest performing arts venue, a nearly 4,000 square foot space called The Alluvion located inside the Commongrounds Cooperative at the intersection of Eighth Street and from Boardman Ave. Operated by three partners – Commongrounds Cooperative, Crosshatch Center for Art & Ecology and musician Jeff Haas – The Alluvion is set to open this fall pending a successful fundraising campaign to complete construction of the space and launch a visual arts program on the property. If the partners reach their crowdfunding goal of $50,000 by July 15, they will unlock a Michigan Economic Development Corporation matching grant of $50,000 for the project.
The Alluvion will be located on the second floor of the four-story Commongrounds Cooperative mixed-use building, currently under construction. The venue, designed in consultation with local musician May Erlewine, will include a 150-seat listening room "dedicated to producing high-quality, highly accessible performances, community events, classes, workshops, and more. ", according to Commongrounds. An artist's green room with showers overlooking the Boardman/Ottaway River, a bar with food service, a modular stage and moveable seating that can be reconfigured to accommodate a range of arts events and screenings from stage, and a recording and production studio with "world-class audio and video technology" are all included in the project's plans, according to Commongrounds. The recording room will be capable of streaming live events, a key detail recommended by Erlewine based on his experience pivoting to virtual events during the pandemic.
"His take on this was hugely influential, particularly emphasizing the audience-artist connection," says Brad Kik, co-founder and co-director of the Crosshatch Center for Art & Ecology. "She spoke to us about the importance of reaching a virtual audience." Livestreaming not only helps protect venues from COVID shutdowns, but allows artists to offer livestream passes as a perk to their fans on support pages like Patreon. The technology also makes it possible to accommodate national artists in a 150-seat hall by offering a second source of income with live tickets.
Commongrounds director of operations and memberships, Andrew Lutes, said while the facility will be high-end, the aim is to make The Alluvion accessible to both the community and young and emerging artists. "It's the missing middle in Traverse City," he explains, citing Studio Anatomy as another local venue filling that gap. "You have places like Interlochen and the City Opera House at one end, and bars at the other end. This will have the infrastructure of a professional venue, but will be accessible.
To achieve this goal, venue partners plan to offer regular, free public events, such as free concerts, nonprofit and arts community partner events, and space for community gatherings. "We're not closing the doors," Kik says, noting that the public will be able to walk around and explore the space or participate in events scheduled from morning to night throughout the week. L'Alluvion will have an artist residency program, as well as Open Stage – a series of free recurring concerts for emerging musicians to book their first shows. "For an audience, it's a great place to find up-and-coming bands of all kinds," according to Commongrounds. "For artists, this can be an important and often rewarding experience in building an audience and taping a first live show."
"Alluvion" refers to the flow of water against a shoreline, a flood, or the soil deposited by a river — all appropriate references to a location on the Boardman/Ottaway River, according to Kik. "It also represents how culture is done through movement," he says. The venue is expected to open this fall, although the exact timing depends on fundraising. "It's more of a money line than a timeline," Kik laughs. Project partners launched a patronage campaign this week to raise $50,000 for the venue, offering benefits at various levels of donations ranging from merch to event tickets to a private concert with the Alluvion House Band, whose members include Lutes, Andrew Dost (of the band fun.), Dana Falconberry and Philippe Parker. Alluvion has already raised nearly $14,000 of its goal; if the campaign reaches $50,000 by July 15, the Michigan Economic Development Corporation will kick off a $50,000 match as part of the state's Public Spaces Community Places program.
The fundraising campaign will also cover the start-up costs of a visual arts program at Commongrounds. Jessica Kooiman Parker is leading this project as designer and curator, aiming to install public art throughout the building. This will not only include exhibits in typical spaces like walls and halls, but also murals and other artwork in the on-site Nobo Mrkt restoration room, as well as unique locations like ceilings, floors, bathrooms, parking and hidden places throughout the building. "These aren't your typical gallery-style spaces," says Kooiman Parker. "We think of it more as street art, where you might not expect it. Art can be anything and everywhere. We try to push more contemporary work that is more interactive, more courageous, with storytelling through the work. It's a really fun opportunity to explore emerging ideas and artists and give them a platform to express themselves that they might not have in traditional galleries.
A visual arts council will help select artwork for the building, both through invitations to artists and calls for applications. Artists will receive stipends to exhibit at Commongrounds and may also sell their work if they wish. "It comes down to the appreciation of art," says Kooiman Parker. "Artists are always asked to do so much. I feel passionate about supporting them in a practical way. While some works, such as murals, might be longer-term installations for a year or more, the majority of artwork might change quarterly. "I'm a real believer in keeping things fresh," says Kooiman Parker. She says she is already working with the Justice and Peace Advocacy Center (JPAC) and the Tusen Takk Foundation on artists' plans and will begin lining up other works for the building's opening in the fall as soon as the campaign begins. funding will be completed.
Kik and Lutes say the overall goal of the building's arts programming is to provide a platform for artists — especially those who are young and up-and-coming — to hone their craft and grow their audiences while making The Alluvion a trusted place for national artists and fans. "It should be a place that is never cataloged, where no one feels like it's not a place for them," Kik says. "The goal would be to get to the point where people want to buy tickets without even looking at the lineup, just because they know and trust the space."