Lots of playoff accolades for Arizona baseball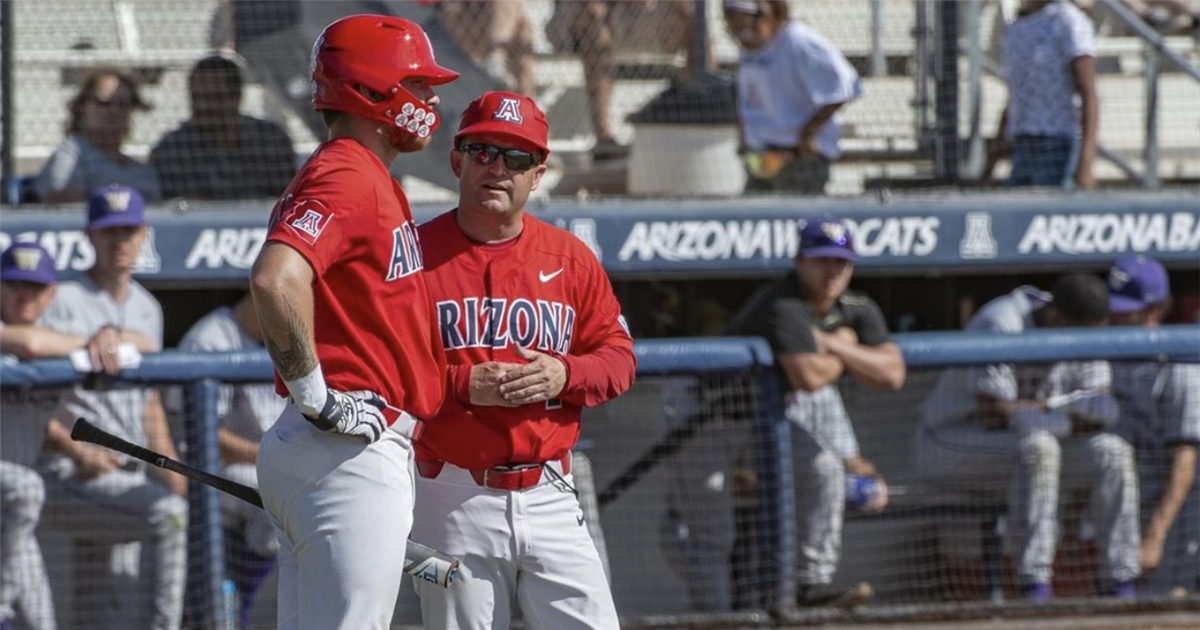 On Thursday afternoon, nine Arizona Wildcats were honored with twelve post-season Pac-12 awards, highlighted by Daniel Susac's selection as Freshman Pac-12 of the year and head coach Jay Johnson as Pac-12 Coach of the Year.
In addition to Arizona's two main winners, Chase Silseth, Donta Williams, Susac, Jacob Berry and Branden Boissiere were selected to the Pac-12 All-Conference squad. Williams and Susac were also part of the All-Defensive Pac-12 team. Lastly, Ryan Holgate, Vince Vannelle, and Kobe Kato all earned honorable Pac-12 All-Conference honors.
Coach of the Year:
First year student of the year:
All Pac-12 Conference Team:
Hunt Silseth

Dona williams

Daniel Susac

Jacob Berry

Branden Boissiere
Fully Defensive Pac-12 Team:
Daniel Susac

Dona williams
Honorable mention from the Pac-12 conference:
Ryan holgate

Vince Vannelle

Kobe Kato
This is the second consecutive Arizona Pac-12 Freshman of the Year winner, after Austin Wells won the honor in 2019, and the Wildcat's first Pac-12 Coach of the Year honor since Andy Lopez. in 2012. For the third time under Coach Johnson, and the first time since 2017, Arizona placed five players on the Pac-12 All-Conference squad. To conclude the superlatives, several winners of the All-Defensive Pac-12 team for the second time in the history of the program.
Johnson, in his sixth season with the Wildcats, led Arizona to an outright Pac-12 championship with a 40-15 overall record and a 21-9 record in conference. The Wildcats reached 40 regular season wins for just the 13th times in program history and recorded the second-most all-time conference wins in Arizona. Johnson, a coach known for his prolific infractions, produced one of America's most dangerous lineups again in 2021. The Wildcats finished the regular season ahead of the Pac-12 in almost every statistical category and won. ranked fourth in the country with an average of 8.7 races per game. Previously, during his career, Johnson was named 2016 ABCA West Region Coach of the Year and 2015 Mountain West Coach of the Year.
Susac, a native of Roseville, Calif., tore up the Pac-12 in his first college campaign and rewrote much of Arizona's record books along the way. In 53 regular season games, he has reached 0.344 with 45 runs scored, 20 doubles, a triple, 12 homers, 59 RBIs, a slugging percentage of 0.618 and a base percentage of 0.396. As the Wildcats' daily starting receiver, Susac posted a .996 defensive percentage and eliminated 8 of 24 base steal attempts. By the end of the Wildcats 30 Pac-12 contests, Susac had set first-year conference records in Arizona with 45 hits, 12 doubles, 21 extra hits, 83 total bases and a .669 hitting percentage while tying Arizona freshman conference records with eight home races and 34 RBIs. Last month, Susac was selected as a semi-finalist for the Buster Posey National Collegiate Catcher of the Year award. He is Arizona's first receiver to win All-Defensive Pac-12 team honors.
The five All-Conference Wildcats selections are the first recipients of the award.
Silseth, Arizona's opening night starter and first-game ace all season, led the team and placed second in the Pac-12 with eight wins while pacing the club and third of the circuit with 89 strikeouts. He limited opposing hitters to a .269 batting average and had five quality starts in his first season in Tucson. Silseth won the Pac-12 pitcher of the week honors on May 3 after working 7.0 two-hit innings with eight strikeouts against Utah.
Williams, in his fourth season with the Wildcats, was the primary driver of one of the best offenses in the country, hitting 0.335 with 71 runs scored, 13 doubles, 3 triples, six homers, 41 RBIs, stroke percentage. 517 and an astonishing base percentage of 0.487. The Las Vegas native led the Pac-12 and placed third among all Division I players nationwide with 71 points, while setting career records in doubles, home runs, RBI and slugging percentage. Defensively, the star center fielder posted a .975 defensive percentage, collected an outfield assist and made just one mistake in 30 Pac-12 games. Williams' selection to the All-Defensive Pac-12 team is the second of his career, having already won the honor in sophomore year in 2019.
Bay, who along with Susac formed the Baby Bombers duo, worked his way through 55 games at a batting average of .371, 48 runs scored, 16 doubles, five triples, 15 homers, 64 RBIs , a . Slugging percentage of 710 and base percentage of 0.463. His 15 homers to date are five close to matching the Wildcats' first 20-year record set by program hometown king Shelley Duncan in 1999. At the end of the regular season, Berry leads the team. batting average, triples, home runs, RBI, extra base hits, total bases and slugging percentage. His 64 RBIs are the Pac-12's highest and tied for fifth among all Division I players. In addition to his Pac-12 honors, Berry was selected on the mid-season watchlists for the Golden Spikes Award and the Bobby Bragan Collegiate Slugger Award and named semi-finalist for the Dick Howser Trophy.
Boissiere, Arizona's daily first baseman, finished the regular season on a tear and eventually hit .362 with 62 runs, eight doubles, four triples, five homers, 55 RBIs, .505 stroke percentage, and one. percentage of .453 based. He was one of three players to start every game this year for the Wildcats, making him a staple in the conference's most dangerous offense. At the end of the regular season, his 62 points scored were ranked second in the conference and tied for ninth nationally. Defensively, Boissière put on a Gold Glove-caliber performance, registering a .991 defense percentage on over 400 chances. For his efforts, he was shortlisted for the Golden Spikes Award midseason watchlist.
Holgate, a third-year sophomore, has had an outstanding season after showing huge promise in each of his first two years at Tucson. In 55 regular season games, the outfielder posted a batting average of .344, 43 runs scored, 18 doubles, a triple, eight homers, 48 ​​RBIs, 0.549 stroke percentage and a base percentage. of 0.419. Holgate has had the best career marks in almost every offensive category and recorded a defense percentage well over .900 in right field. His 74 hits, 18 doubles and 118 total goals have all ranked among the Pac-12's top five players this year.
Vannelle, one of Arizona's two seniors, had the best performance of his career as one of the Wildcats' two main late-inning relievers. In 22 appearances, the Ohio native went 5-2 with seven saves and a 2.83 ERA to go along with a 11.31 K / 9 rate. Vannelle's seven saves this year are tied for 10th the most in a single season in program history, while his 11 career saves are 8th all time in Arizona. In total, he made 13 scoreless outings and limited opposing hitters to a batting average of 0.261.
Kato, from Aiea, Hawai'i, first tasted extended playing time in 2021 and made the most of his opportunity. In 55 games, he's reached 0.351 with 48 runs scored, 14 doubles, two triples, a homer, 28 RBIs, 0.459 hitting percentage and 0.466 base percentage. Kato has walked 41 walks this year, giving him 12 more than strikeouts. A skillful defenseman on the right side of the infield, he was in 27 of the Wildcats' 34 double-play games shot in the regular season and recorded a .939 defensive percentage.
* Release courtesy of Arizona Athletics *