State Senate appoints vocal Columbus Day advocate to CUNY board of directors – The Ticker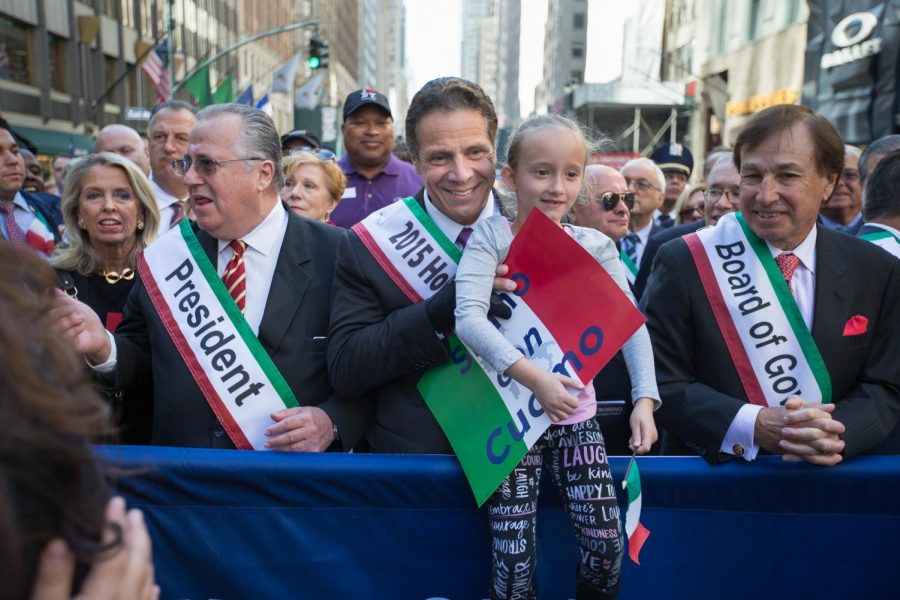 The New York State Senate approved the appointment of a conservator and staunch defender of Christopher Columbus, Angelo Vivolo, to the CUNY board of directors last week, after Governor Andrew Cuomo appointed him the previous weekend.
Vivolo was interviewed during confirmation hearings for the state Senate board of directors on June 7, where he was approved for a six-year term. The board of trustees is the governing body of the university, which makes decisions on behalf of the colleges, such as on tuition fees.
"My position on Columbus is very simple: education," said Vivolo The New York Post. "The best way to deal with Columbus is to provide education, to provide knowledge and to provide the truth. I hope the controversy doesn't stop me from being a director on the CUNY board. Columbus is someone Italian Americans admire. There are detractors. But I am here to serve the interests of everyone, not just Italian Americans. I am only one voice.
Best known for his fierce opposition to New York Mayor Bill de Blasio's decision to change Columbus Day to Italian Heritage Day / Indigenous Peoples Day on the city's calendar, Vivolo sees himself as an activist. of the Italian community.
De Blasio himself is Italian.
Vivolo is the president of the Columbus Heritage Coalition and the National Columbus Education Foundation, an organization dedicated to ensuring that Columbus Day is not erased from annual calendars in the United States
"Italian-American history and heritage are cultural pillars in so many American cities from coast to coast to coast," reads part of the About page of the Coalition's website. "The achievements of the Italian-American community continue to have a profound and lasting impact on the country and our collective identity. Italian-American history is the history of immigrants, a history that many can relate to. The pride Italian Americans have in their heritage is the pride that every immigrant community has. This is why we are coming together to show our solidarity with Italian-American communities across the country by supporting the celebration of Columbus Day, including our victorious battle to preserve the statue of Christopher Columbus in New York's Columbus Circle.
As New York City moves away from the days when Columbus was hailed as a cultural savior and viewed more in a mixed light of the Italian explorer, Vivolo has remained steadfast in his belief that Columbus does not deserve to be described in a negative way.
He's also a firm believer that educating people about what Columbus really did for a living is the key to stopping attacks on the Explorer, who is often mistakenly seen as the first person to discover the Americas.
"The key to future success is education," Vivolo said in an article by We the Italians. "For too many years the Italian-American community has not challenged Columbus' false narrative and defined who he is. It is extremely important to have an open dialogue with people who have opposing views. The press has made it a battle between the legacy of Christopher Columbus and the indigenous peoples. We categorically endorse a special day for indigenous peoples, but not as a substitute for Columbus Day. It is essential that we meet those who oppose Columbus Day. We also need the support of other ethnicities who immigrated to the United States and appreciate that Columbus was the first immigrant and paved the way for our arrival here and our prosperity. "
Although he is known for his role as an advocate for New York's Italian community and a supporter of Columbus Day rather than Indigenous Peoples Day or Italian Heritage Day, Vivolo has some background in education.
The 74-year-old went to Long Island University for his undergraduate studies, then attended Hunter College and Brooklyn College for his graduate degree in education. Her brother and sister attended City Technical College for their associate degrees.
Apart from her family's personal experiences at CUNY, Vivolo is also linked to education by giving lectures at City Tech.
He also worked as a high school teacher for schools in Far Rockaway and South Ozone Park, Queens and Bensonhurst, Brooklyn, before becoming the dean of a "Special Intervention Program for High-Risk and Academically Under-prepared Adolescents."
Vivolo is also the Academic Administrator of John Cabot University in Rome.
The new administrator also supports the education-related organizations of the Partnership for Inner-City Education, the Futures in Education Program and the Child Center of New York.
Besides education, Vivolo's career has been heavily focused on the hospitality industry, as he spent 40 years working as a restaurateur, owning five catering establishments in Manhattan.
His culinary and educational experiences came together for him when he worked with City Tech's Hospitality, Culinary and Hospitality Management program as a goodwill ambassador for the city's culinary industry.
Professor of history at Baruch College and member of the Faculty Advisory Board of the John D. Calandra Italian-American Institute of CUNY, Vincent DiGirolamo gave The teleprinter an e-mail statement with his thoughts on the appointment of Vivolo.
"The importance of Columbus as a world historical figure is assured. Its place in Columbus Circle, and on our calendars, is not. The debate over his legacy is necessary and appropriate. And we cannot have this debate without its supporters. The fact that Angelo Vivolo strongly advocated honoring Columbus is no reason to oppose his appointment to the CUNY board, "part of his statement read. "I expect Mr. Vivolo to serve the board well. However, if he uses this position to campaign against "culture cancellation" or any other distortion of student and faculty engagement on the thorny issues of racism, slavery and colonialism, then his appointment will be regretted. "
This belief seems to be shared by some students, such as Matthew Dela Cruz, a recent finance graduate, who responded to a Google Form survey by The teleprinter which was shared on Facebook.
"I don't think Vivolo's beliefs should be a major factor in deciding whether or not he would be a good candidate for the board," he said. "His past performance and skills should be evaluated rather than what he believes in. We should ask ourselves whether or not he will act or not and make decisions that will benefit all of CUNY."
The government of undergraduate students has also provided The teleprinter with a statement on the position of its members.
"As the elected representatives of the students who serve on Baruch College's undergraduate government, our mission has and always will be to fairly represent the student body," the statement said. "As students, we need to ask our board of directors to make decisions that positively affect students and do not hinder the equality of the institution. Angelo Vivolo was appointed by the governor and approved by the State Senate. We are not here to denigrate an individual; he chooses to be a strong supporter of Columbus Day, as some students also choose to do.
The USG went on to say that while this will give him a chance to prove he's the right person to choose for the board, its members will speak up if they feel he's doing something that isn't. not representative of student beliefs.
"However, it should be made clear that in recognizing Columbus Day there should also be recognition of the Indigenous peoples who were massively affected by Columbus' actions and the symbolic nature of that day," the USG said. "If Vivolo were to overstep her political actions towards a group because of her convictions, we will not hesitate to denounce the hijacking of her position, as we would for any elected member. Equity should be a priority in a governing body with the most diverse student body in the country. "
Baruch's administration also offered a statement to The teleprinter regarding college vacation.
"For all CUNY schools, vacations are set by board policy and / or Union contracts," the statement said. "That said, Baruch holds a wide range of events throughout the academic year to celebrate the rich diversity of its student body. During his first year at Baruch, President Wu reaffirmed the College's commitment to creating a diverse, equitable and inclusive environment for all members of the campus community.